Everything at a glance
With our new industry flyers, we will in the future be giving you a compact overview of our product portfolio for a wide range of applications. We will start with the one-pager on the subject of wheels and rollers for mechanical engineering.
We strive for one thing above all else: perfection
PEVODYN® with optimized properties and new colour
RÄDER-VOGEL even in the grips of Corona.
We continue to make our contribution
for the mobilisation of resources.

Throughout the world. Global sales.
We are there for you across the the world. You can get
our products exclusively from independent retail partners in more than 50 countries.

Precise, flexible transport
From distribution centres to cold storage, we can provide the right solution for any shuttle application.

Secure and reliable under heavy workload
The new Amusement-Rides-Technology brochure contains information about our products which are in use and excel on a daily basis in amusement parks around the world.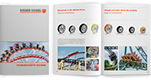 OUR MAIN CATALOGUE
The catalogue provides you with a complete overview of our portfolio. Neatly designed and clearly structured, you will quickly find the right product for your application.


FLEXIBILITY WITH HEAVY LOAD
Heavy loads, tight spaces and extreme temperatures – our PEVOTEC® wheel specially developed for forging manipulators copes well with all of these demands.